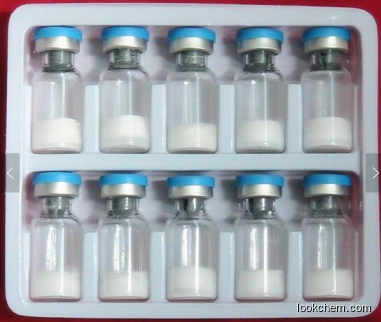 Quick Details
ProName: Wholesale Factory peptides TB500/TB-50...
CasNo: 77591-33-4
Molecular Formula: C212H350N56O78S
Appearance: white powder
Application: regulating the uptake of various nutri...
DeliveryTime: immediately
PackAge: aluminum foil bag
Port: HK, Shanghai, Shenzhen
ProductionCapacity: 1 Kilogram/Month
Purity: 99%
Storage: cool and dry place
Transportation: EMS,DHL,HK post,EUB,ETK,NL post,German...
LimitNum: 1 Gram
Superiority
1.high quality:
quality is life. quality is the most important element for all goods. we have a lab doing research in wuhan china. hplc and nmr is available if needed.
2.reasonable price:
we provide high quality products with competitive price in china. all customers are welcomed to send us inquiries and get quotation.
3.low moq:
no worry about the low moq, our moq is 1 gram or even lower.
4.good service.
fast response. we promise to reply within 24 hours including holidays and send quotation sheet and other documents within 48 hours.
5. fast shipping and secure courier.
we promise to send out products and provide tracking number within 3 working days. and we send via different couriers based on different destination countries. we usually use nl post, hk post, germany post, eub, etk, etc.
Details
TB-500 is primarily used in the treatment of various muscle injuries or pain caused by inflammation. There is very little official humandata available for this product; however, it has been a long time used in racehorses. TB500, although synthetic, serves to act as a synthetic form (loosely) of Thymosin Beta4 (TB4). TB500 is not TB4; although very commonly confused as TB4, it is designed to provide the benefits of the naturally occurring thymus produced hormone.

TB-500 Functions and Traits

The thymus gland as well as in various localized cells in the human body produces thymosin Beta-4 (TB-4). TB-4 is found in cytoplasm in high levels of concentration as well as in wound fluid. TB-500 is designed to promote the actionable area - the part of TBthat promotes healing. More importantly, manufacturing TB500, despite not being TB4 is possible while the latter is extremely difficult.

HOW TO USE:

Give onesubcutaneous each week for six consecutive weeks. There after use oneper month. It's best to give 6 days before intense work.

We recommend giving the shot the day after intense work then giving the shot every seven day there after. You must make sure to hydrate very well when using this product. Give normal vitamins and minerals to support normal racing function. Hydration is key when using this product.
Packing and shipping